GX-188E (Tirvalimogene teraplasmid)
A therapeutic DNA vaccine targeting HPV 16 and 18 types
Disease Indication
HPV16/18 associated cancer (Cervical cancer, HNSCC)
Development Stage
Clinical Development (Phase 2)
Summary
GX-188E is a therapeutic DNA vaccine that encodes both E6 and E7 antigens of HPV types 16 and 18, which are the most persistent, high-risk HPV types and are responsible for about 70% of cervical cancer. Head and neck cancers such as oropharyngeal are also caused by HPV 16 and 18. The DNA vaccine is delivered intramuscularly by electroporation.
It is designed to preferentially induce antigen-specific CD8 T cell responses by Flt3L fusion, which facilitates selective delivery of HPV antigens to dendritic cells.
A phase 1b/2 clinical trial for advanced cervical cancer final data has been released with primary CSR. Genexine is also conducting two ongoing clinical studies with GX-188E in combination with an immune checkpoint inhibitor and a long-acting interleukin 7 in head and neck squamous cell carcinoma (HNSCC) as an Investigator-Initiated Trial (IIT).
Structure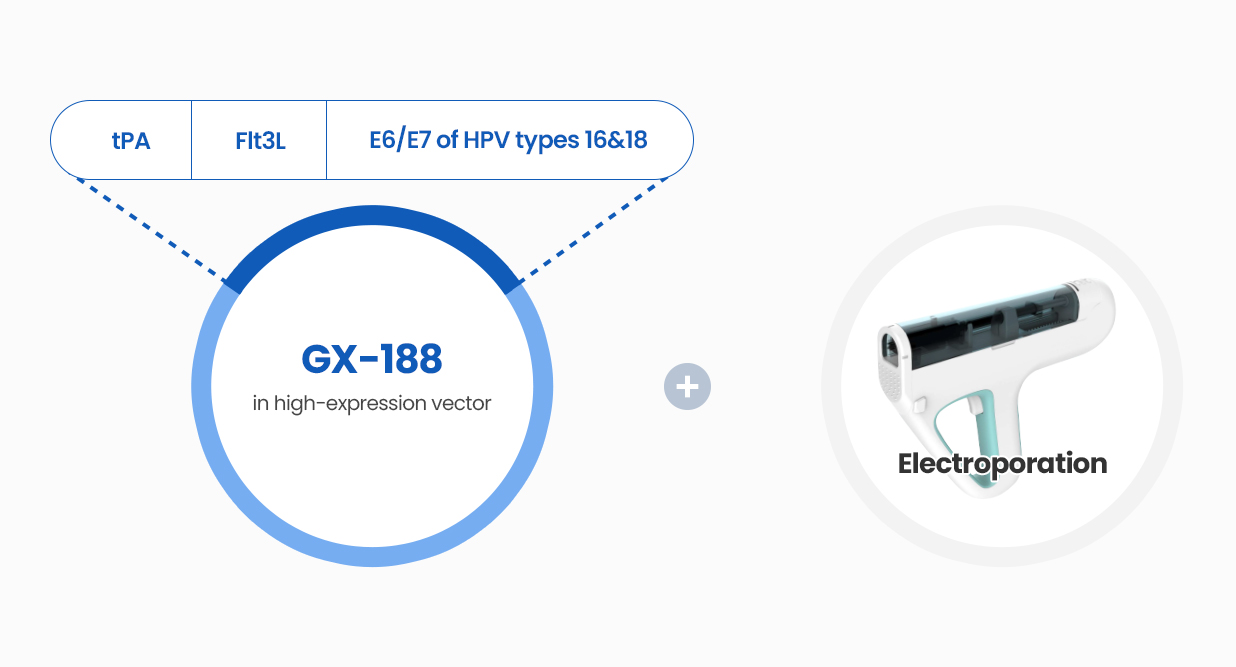 MOA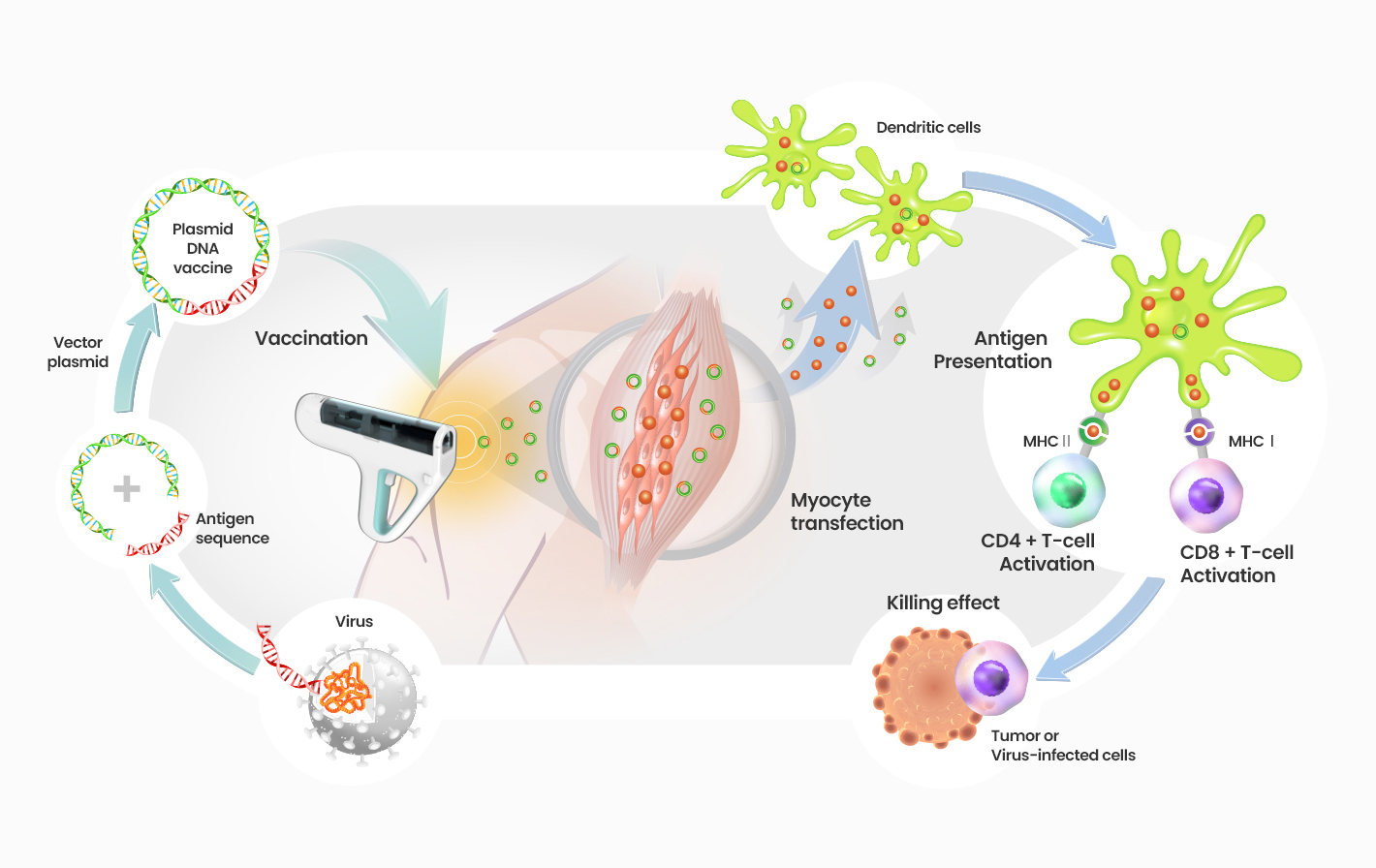 크게보기
Characteristics
1If GX-188E is applied to HPV-associated cancer patients as a combination therapy with immune checkpoint inhibitors and proves its effectiveness, it is expected to contribute significantly to increasing objective response rate and overall survival of cervical cancers with low long-term survival rates.
2GX-188E combined with pembrolizumab is safe and efficacious treatment for patients with HPV 16-/18-associated recurrent or metastatic cervical cancer who failed from SoC, and showed clinically meaningful anti-tumor activity in both PD-L1 positive and PD-L1 negative subgroups.
3The GX-188E combination also showed durable response with median DOR over 12 months and median OS approximately 17 months compared to the durations of standard chemotherapies in women with previously treated recurrent or metastatic cervical cancer.
Publication
1Clearance of Persistent HPV Infection and Cervical Lesion by Therapeutic DNA Vaccine in CIN3 Patients. Nat Commun. 2014 Oct.
2A Phase II, Prospective, Randomized, Multicenter, Open-Label Study of GX-188E, an HPV DNA Vaccine, in Patients With Cervical Intraepithelial Neoplasia 3. Clin Cancer Res. 2020 Apr.
3Pembrolizumab plus GX-188E therapeutic DNA vaccine in patients with HPV-16-positive or HPV-18-positiv e advanced cervical cancer: interim results of a single-arm, phase 2 trial. Lancet Oncology 2020 Dec.
4Efficacy and safety of GX-188E, a therapeutic DNA vaccine, combined with pembrolizumab in HPV 16- and/or 18- positive advanced cervical cancer (Phase II): Effective both in PD-L1 positive and negative. 2022 ESMO Mini Oral Session 1: LBA32. 2022 Sep. 10