GX-I7 (Efineptakin alfa)
A recombinant human interleukin-7(IL-7) fused to hyFc
Disease Indication
Radiation and chemotherapy-related lymphopenia, solid tumors including TNBC, GBM, etc., and lymphopenia due to infectious diseases
Development Stage
Genexine and our partners are currently conducting Phase 1 & Phase 2 clinical trials of GX-I7 as a monotherapy or in combination with other anti-cancer treatment, including checkpoint inhibitors, in solid tumors, lymphopenia and infectious disease.
Development Stage
Field
Type
Combination
Indication
Development Phase
Sponsor
Partner
Oncology
COM
KEYTRUDA®
TNBC

Preclinical

Phase 1

Phase 2

Phase 3

Phase 1b/2, KEYNOTE-899

Genexine
COM
Avastin
Recurrent GBM

Preclinical

Phase 1

Phase 2

Phase 3

Phase 2

COM
GX-188E/Opdivo
Recurrent HNSCC (HPV16)
Investigator-Initiated Trial (IIT)

Preclinical

Phase 1

Phase 2

Phase 3

Phase 2a
Summary
GX-I7 (INN: efineptakin alfa) is a recombinant protein developed by the fusion of human recombinant hybrid Fc (hyFc) with a human T cell growth factor, IL-7 (Interleukin-7) to optimize the function of IL-7.
IL-7 is a T cell growth factor mainly involved in differentiation, proliferation, and survival of naïve T cells and memory T cells which are associated with recognition and targeting of antigens among a variety of T cells, but it does not induce proliferation of regulatory T cells which suppress effector T cells. In addition, IL-7 is one of the cytokines with low risk of severe side effects such as cytokine storms since it maintains T cell homeostasis through IL-7 receptor (CD127), thereby having the advantage of safe use. It can induce not only a quantitative increase in the level of T cells but also anti-tumour effects involving targeting the cancer cells and penetration into cancer cells/cancer tissues.
Structure
Fusion of engineered IL-7 to the hyFc platform composed of IgG4 and IgD.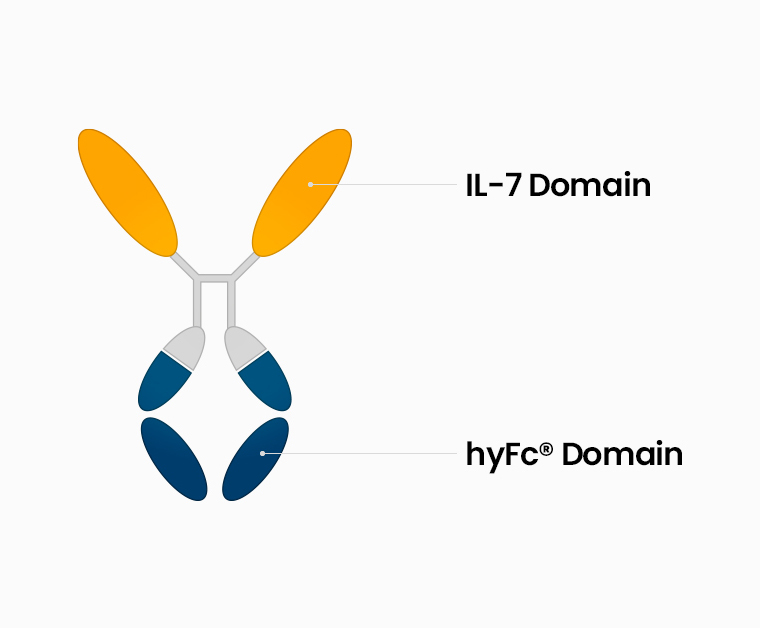 Mechanism
Acts on IL-7 receptors, increasing CD4 and CD8 T cells (Naive & memory subtype)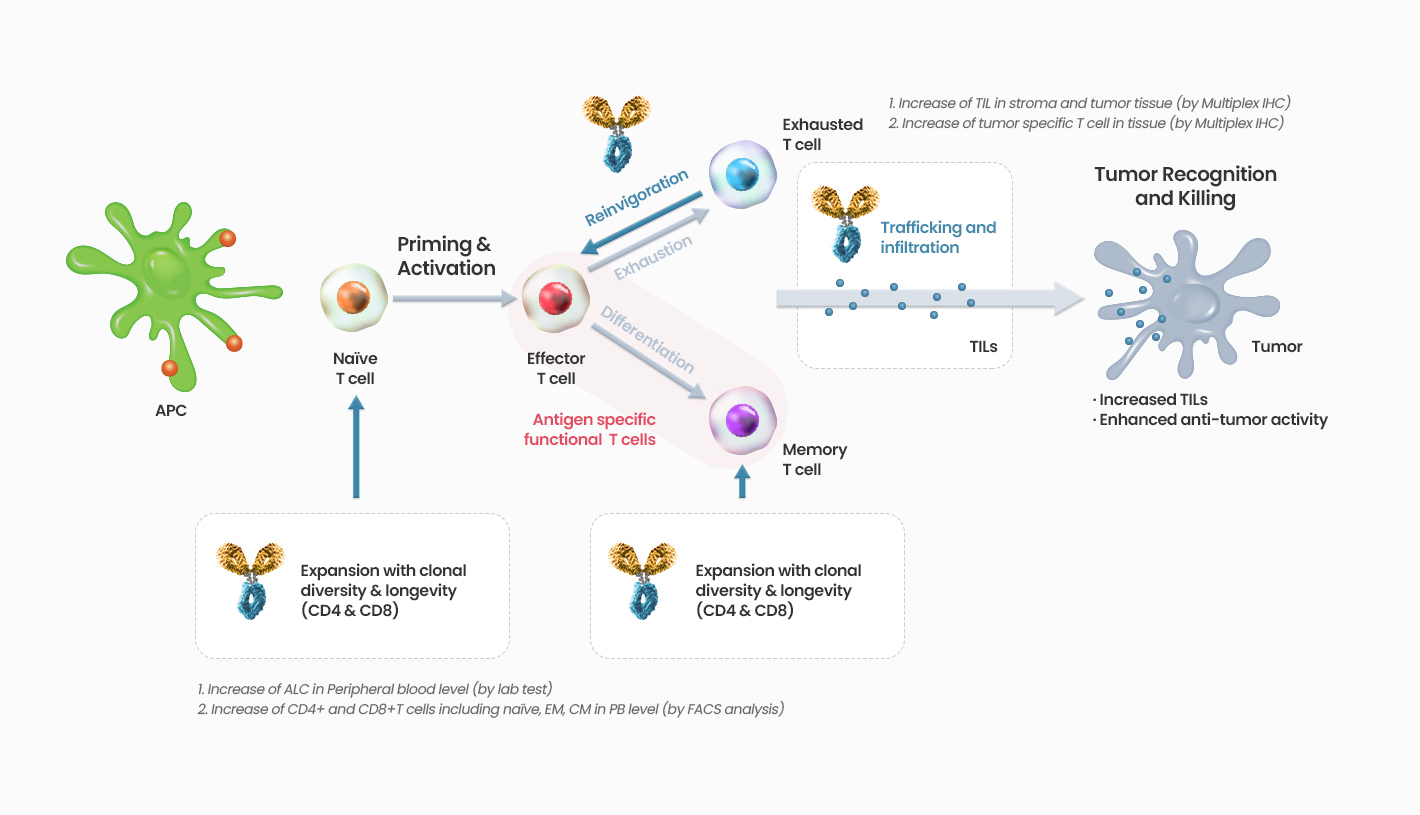 크게보기
Characteristics
GX-I7 is a T-cell amplifier that increases the number of T cells and enhances cancer immunity and potentially provide greater therapeutic benefits to patients.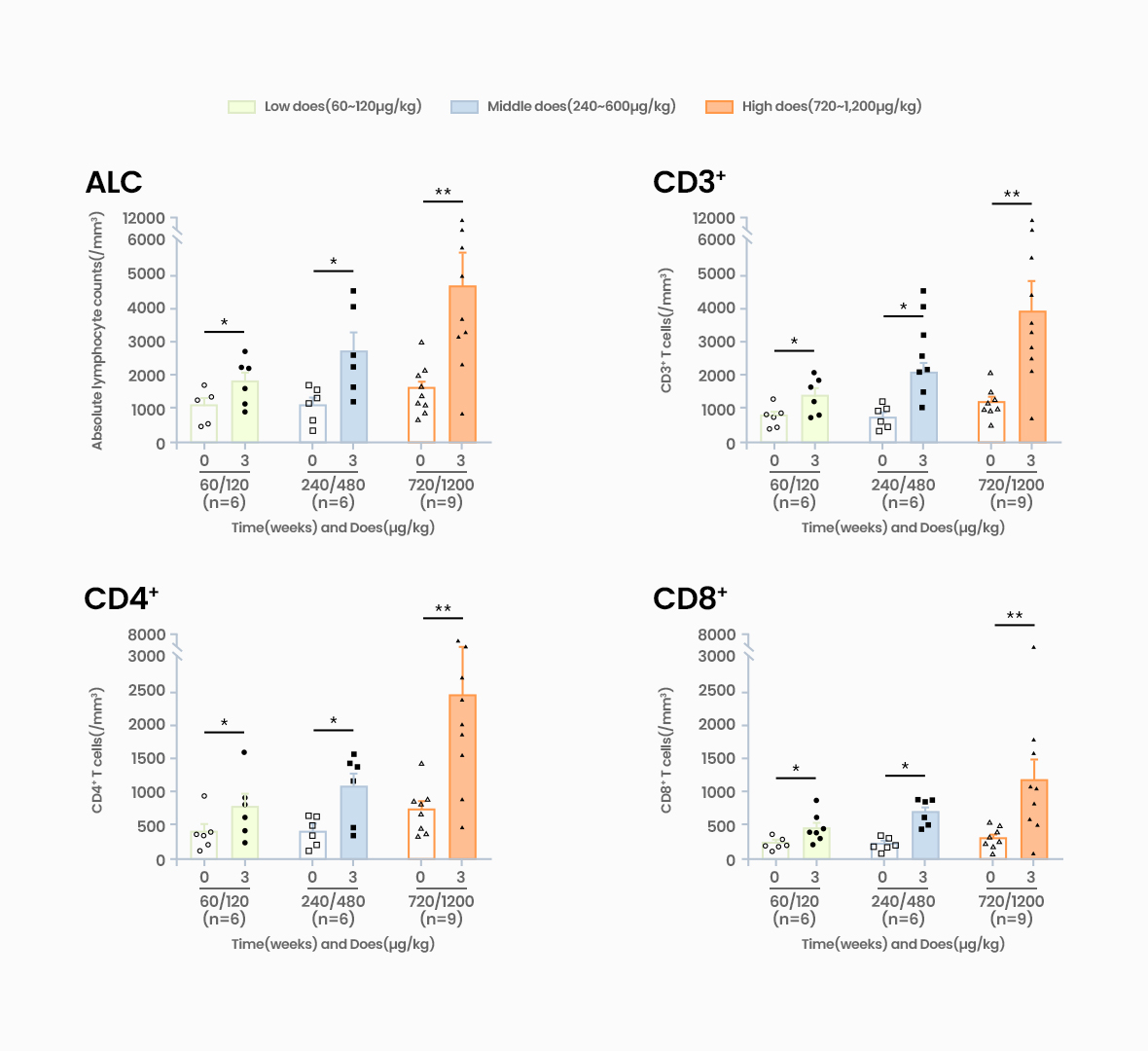 크게보기
GX-I7+Keytruda (mTNBC Patients)
Publication
1Crucial Roles of Interleukin-7 in the Development of T Follicular Helper Cells and in the Induction of Humora l Immunity. (J Virol. 2014)
22019 AACR Poster Publication
32020 ASCO Poster Publication (2020-05)
42020 SITC Poster Publication (2020-11)
5Compassionate Use of the human recombinant IL-7 for restoring lymphopenia as a salvage treatment in pat ients with recurrent glioblastoma (KAI International Meeting 2020 Poster Publication)
6Recombinant human IL-7-hyFc for Recurrent GBM (2022.01, MedRxiv Publication)
7Compassionate use of recombinant human IL-7-hyFc as a salvage treatment for restoring lymphopenia in patients with recurrent glioblastoma (Cancer Immunity, 2022)